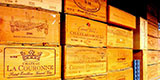 Liquor Town is conveiently located on the Vestal Parkway inbetween Fabulous Finds and the Vestal Post Office. Stop by and browse our warehouse for an outstanding selection of wines and spirits at warehouse prices.
Get Directions 119 Rano Blvd Vestal, NY 13850 (next to the Vestal Post Office)
Where your discount begins at bottle 1!